Moncler and JW Anderson Collaborate for Genius Project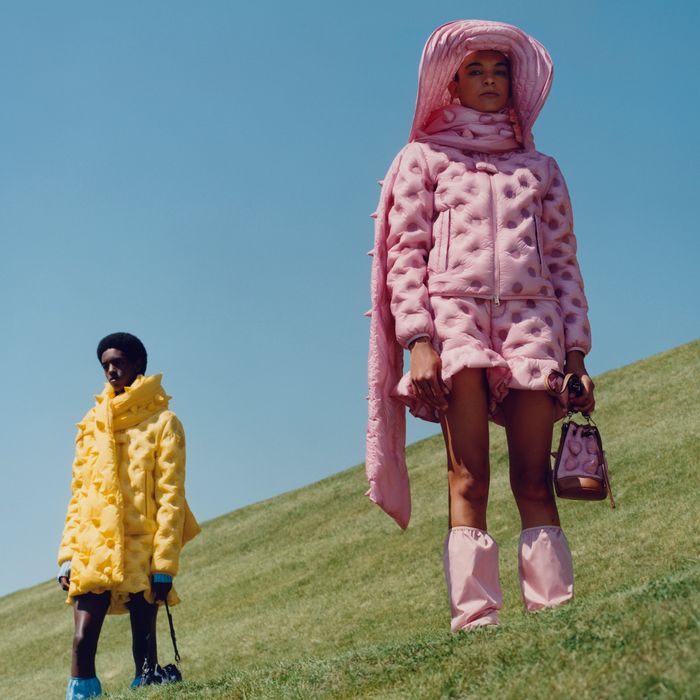 Every so often, you come across a fashion item that fills you with joy simply because it exists. The feeling isn't "I must own that" – it's more like "I'm so happy someone decided to make this crazy thing." That's how I feel about this witty twist on the familiar puffer coat by Irish-born designer Jonathan Anderson for Moncler's Genius Project.
The Genius Project is a regularly recurring series of collaborations with creative people across the fashion world. Each designer riffs on the ubiquitous Moncler puffer coat in their own way. For his take, Anderson took some of his most iconic designs from the JW Anderson archive — like the Riviera hat and ruffled shorts — and literally inflated them, reinterpreting them in duvet to create new shapes. Everything is genderless and extremely playful.
My personal favorite is the bubblegum-pink look: a puffer jacket paired with a matching puffer scarf. The jacket lets you take the coziness of your living room anywhere this fall and winter — it's quilted in the same manner as a Chesterfield sofa — and the scarf will keep people at bay with its protruding spikes. It's a wonderful medley of cozy, sweet, and tough vibes. Shop the coat below, and see the entire collection here.