IFS mall gives impetus to shopping in Southwest China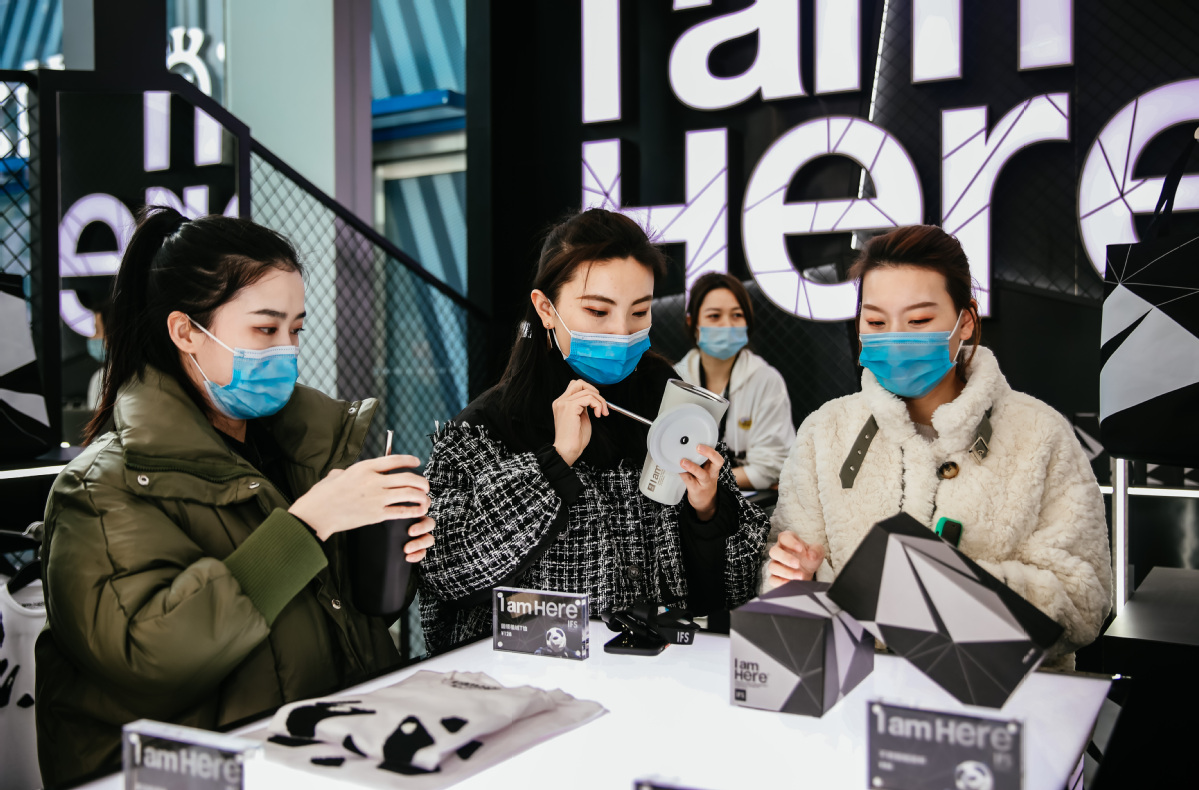 With the Chinese government offering more favorable policies to boost domestic consumption, Chengdu International Finance Square, the mega integrated shopping complex owned by Hong Kong-based conglomerate Wharf (Holdings) Ltd, has pledged to deploy more resources into online sales channels and the first-store economy in the country"s southwestern market this year.
The first-store economy refers to a global brand or a new trendy brand that enters a specific region or area by opening its first flagship store in certain places, bringing new shopping experiences and fostering new growth areas for consumer spending.
Despite the impact of the COVID-19 pandemic on the economy, Sichuan province-based Chengdu International Finance Square, the mega integrated shopping complex owned by Wharf (Holdings), posted double-digit growth in footfalls as well as sales last year.
That marked the seventh straight year of double-digit growth, company data showed.
Strong local consumption, and integration of online and offline businesses through trends like livestreaming, had given Chengdu IFS a nearly 100 percent occupancy rate in 2020, said Christina Hau, assistant director and general manager of Wharf China Estates Ltd, a subsidiary of Wharf (Holdings) that operates the mega mall.
"Major cities such as Chengdu are ideal to spread the first-store concept because the city is supported by well-developed high-speed railway networks. There are several cities connected to the city by one-hour high-speed train rides. The stores owned by global brands in Chengdu certainly can serve consumers living in surrounding cities," she said.
Chengdu IFS updated its digital retail platform called the IFS WeShop last year. It offers daylong services to consumers online, to mitigate the impact caused by the contagion. It also expanded its delivery service range to 16 provincial-level markets.
Given that more and more consumers in China are digital-savvy and young, Chengdu IFS has cooperated with reputed firms and brands as well as successful third-party labels engaged in hip-hop, street dance, esports or popular culture, to cater to this demographic, Hau said.
The company also launched a livestreaming studio named Chao last year. The studio has completed 1,200 livestreaming marketing sessions with resident brands that have attracted over 100 million online viewers.
More than 120 new stores opened at Chengdu IFS in 2020, including over 70 national, regional or local debut stores of international brands such as Canada Goose, Carven and La Perla.
Its membership grew by 30 percent year-on-year to about 400,000 last year, among whom the younger consumer group made up more than half. Two distinct subgroups of consumers accounted for annual growth rates of 60 percent and 180 percent, respectively.
In the last few decades, Wharf (Holdings) has invested in and built landmark projects such as IFS and Times Square in cities like Chongqing, Shanghai and Dalian, Liaoning province.
To date, it has invested 17 billion yuan ($2.62 billion) to build and grow Chengdu IFS, a complex with a floor area exceeding 760,000 square meters and home to shopping malls, office buildings, hotels and residences.
Another IFS facility, owned and operated by Wharf (Holdings), opened in the neighboring city of Chongqing in 2017.
Thanks to the enhanced regional connectivity brought by the tangible growth of the Chengdu-Chongqing economic cluster, Chengdu IFS and Chongqing IFS jointly started interactive activities targeting tourists.
Their connection became even closer after a new high-speed train line between the two cities shortened the travel time to within an hour. The reinforced interaction between them is conducive to cultivating a new cultural and tourism shopping experience, retail industry experts said.
China's retail sales of consumer goods, a major indicator of consumption growth, totaled 39.2 trillion yuan in 2020, heralding the country's gradual economic recovery amid the COVID-19 pandemic, according to the latest data from the National Bureau of Statistics.
The country's online retail sales surged 10.9 percent year-on-year to 11.76 trillion yuan in 2020. Online retail sales of physical goods rose 14.8 percent to 9.8 trillion yuan, or 24.9 percent of the nation's total consumer retail sales.
Efforts to boost domestic consumption will be intensified this year to spur economic recovery despite the mounting uncertainties, said Wang Bin, deputy director-general of the department of market operations and consumption promotion at the Ministry of Commerce.
"The government will strive to improve the purchasing power of consumers, improve the consumption environment and create more consumption growth points," he said.
Zhang Yongjun, a researcher at the Beijing-based China Center for International Economic Exchanges, said since the COVID-19 pandemic has slowed household income growth and reduced people's consumption tendencies, it is vital to further unleash consumption potential of the younger generation by boosting new types of consumption.