An oral history of Kim Jones, fashion's hardest-working creative director
Is there a fashion designer in the world right now as busy as Kim Jones? Today, the British creative director of Dior Men is presenting his debut womenswear couture collection for Fendi, following in the footsteps of the late Karl Lagerfeld, who held the throne at the Roman house for 54 years. Kim couldn't be a more perfect heir. Karl, of course, was an unwavering creative juggernaut who effortlessly balanced multiple creative directorships. Kim isn't afraid of challenges, either. Where others might slow down, or enjoy the comfort of their success, at 41, Kim is ready to step into the unknown, always willing to collaborate and shake up the system. "I feel like he is only just hitting his stride, there's so much more to come," says Kate Moss, Kim's BFF and his first Fendi model.
Kim's career has been something of a fairy-tale, albeit one filled with plenty of hard graft and talent. After studying graphic design at Camberwell College of Arts, he enrolled on the fabled Central Saint Martins MA Fashion course, studying under the tutelage of the late Louise Wilson. The graphic t-shirts that he made as a student for the cult Soho store The Pineal Eye caught the eye of influential passersby. Michael Kopelman, the retail guru who launched Stüssy and Supreme in the UK, hired Kim to work at Gimme 5, where he became immersed in the world of streetwear and subculture. And it was Kim's decision to move his presentations from London to Paris that inspired Lulu Kennedy, who had recently launched Fashion East as a platform for fledgling designers, to establish MAN, an incubator for the pool of young British menswear talent that had till then gone untapped.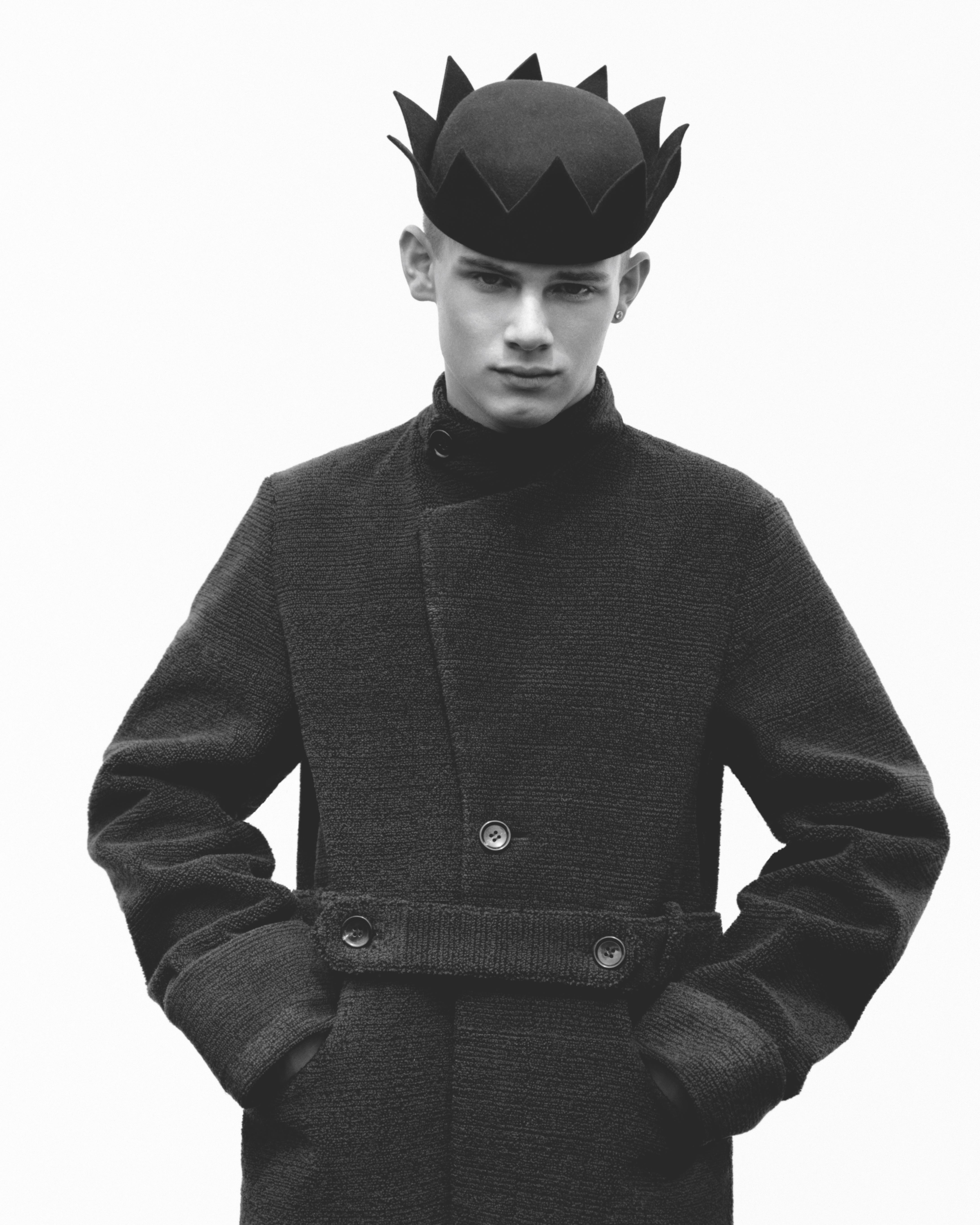 Photography Alasdair McLellan
But where Kim's own namesake label earned him a cult following, it was his roles reinventing some of fashion's most prestigious houses that brought his influence to culture at large. He worked across the board, from sportswear to high street to luxury, eventually landing a role at British sportswear brand Umbro. In 2008, he was tasked with reinventing the gentlemanly tailoring firm Dunhill, and eventually caught the attention of Bernard Arnault. The chairman and CEO of LVMH hired Kim to helm the menswear division of Louis Vuitton in 2011, where he catapulted the niche streetwear, and garments deeply rooted in subculture that he has long collected, into the luxury's big leagues. Quite literally. Before his Louis Vuitton collaboration with Supreme, sneakers were far and few in flagship boutiques. Now, Kim's vision of high-low, genre-defying fashion is seen across the board; streetwear and luxury are now synonymous because of him. "No one has really done that since Helmut Lang, that kind of elegant informality," points out Fabio Piras, the man who encouraged Kim to apply to CSM. "It defines the time we're in now, and how we've changed as a society."
In 2018, Dior and its couture ateliers came calling, and Kim took over the jewel in the LVMH crown. The rest is history. Over the course of his tenure, he's invited visionary artists — Daniel Arsham, Amoako Boafo, Kenny Scharf and Peter Doig, to name just a few — into the fold of 30 Avenue Montaigne, with each resulting collection renewed proof that Kim's always had his finger on the pulse. "The reason that he is at Dior and Fendi is because he's about the now," points out milliner Stephen Jones.
Speaking of now, Fendi beckons. The inspiration for Kim's first collection is Orlando, Virginia Woolf's novel about a poet who transforms from man to woman and lives for centuries — a perfectly apt metaphor for his change of gears. As Charlie Porter puts it: "We're at the point where he's considered one of the most important designers in the world for his menswear, and is about to be for his womenswear, too."
Here, 14 of his colleagues, peers and friends discuss Kim's living legacy and his illustrious career, which has arguably changed the course of fashion history. Long live Kim!
Alastair McKimm is i-D's editor-in-chief, an early appreciator of sportswear and streetwear, and of Kim Jones. 
Alasdair McLellan is a photographer and director, who has captured many of the campaigns for Kim's collections for Umbro, Dunhill and Louis Vuitton. 
Charlie Porter is one of fashion's most authoritative menswear writers, who has followed Kim's career right from the start. 
Fabio Piras is the leader of the MA Fashion course at Central Saint Martins, who encouraged Kim to enroll on the courts 
Honey Dijon is an American-born, Berlin-based DJ who has worked with Kim on the soundtracks for most of Kim's fashion shows.
Kate Moss is one of the world's most recognisable supermodels, as well one of Kim's best friends. 
Lily Allen is a British pop star, as well as one of Kim's best friends. 
Lui Nemeth is the daughter of Christopher Nemeth, the radical designer whose work Kim collects and also incorporated into his AW15 collection for Louis Vuitton.
Lulu Kennedy is the founder of Fashion East, an incubator programme for emerging designers, which Kim was the first menswear designer to be a part of in 2005. 
Mandi Lennard is a London-based fashion publicist, whose agency Mandi's Basement represented some of the city's brightest designers, including Kim Jones, during the 2000s. 
Michael Kopelman is the founder of Gimme 5, the company that first imported Supreme and Stüssy into the UK, long before either were well-known brands. Kim worked for Michael fresh out of Central Saint Martins. 
Melanie Ward is a stylist, renowned for her work in British style titles and with the designer Helmut Lang. She is also the stylist of Kim's collections for Dior Men. 
Stephen Jones is the world's leading milliner, who has been responsible for the hats at Dior for 25 years.
Steven Philip is a vintage fashion collector and archivist, who has known Kim since he was just 16 years old and helped him build his impressive collection of archive-worthy fashion.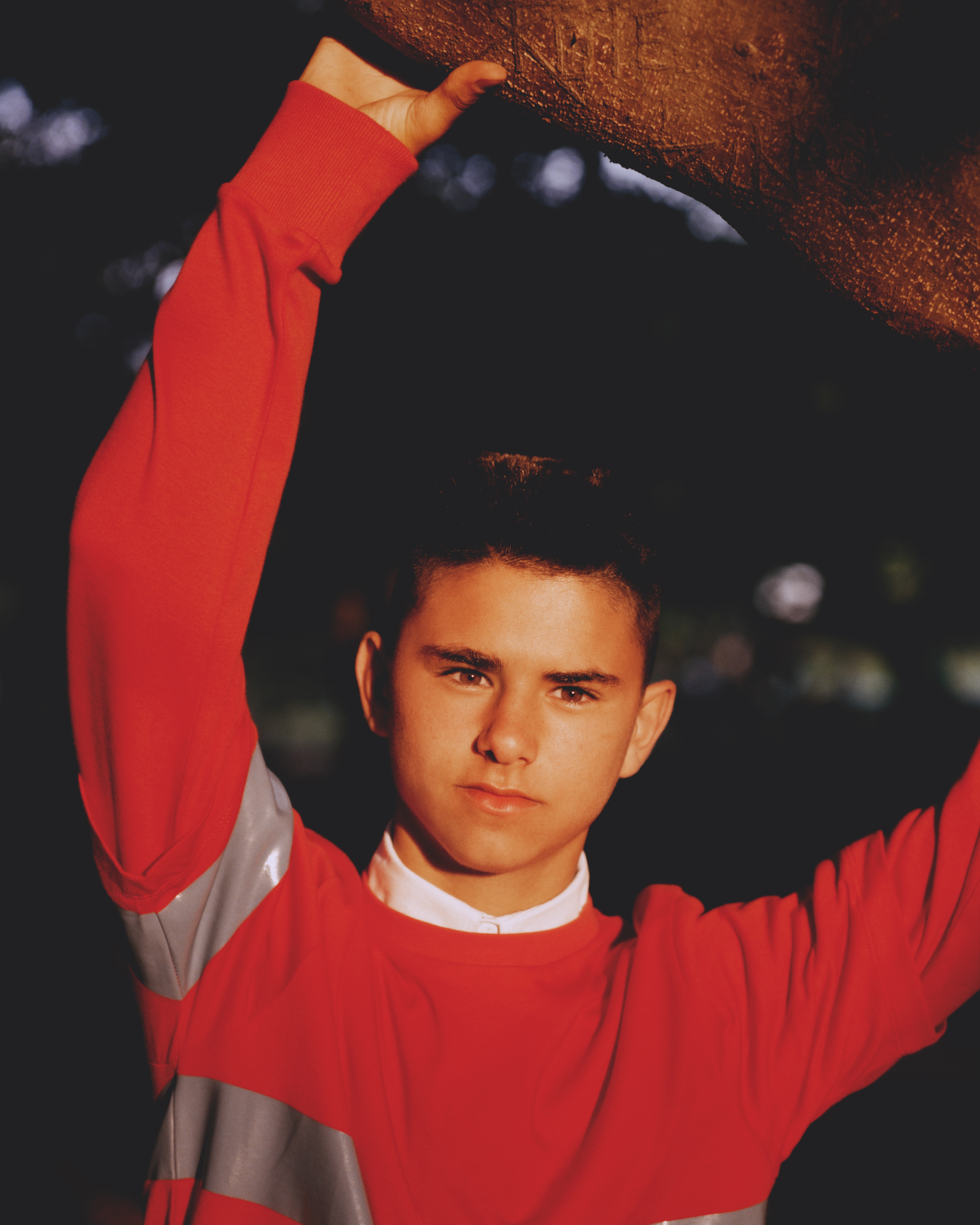 Photography Alasdair McLellan
Mandi Lennard: In the late '90s, he used to hang out in my first office in Haunch of Venison Yard as he was friends with one of our interns. He always had these hard-to-find Japanese magazines, and we soon realised we had a mutual affinity for Japanese brands such as Hysteric Glamour, Bathing Ape and WTaps. I had all the Helmut Lang samples in the office, but we were all obsessing over Michael's [Kopelman] Hit and Run store [later called Hideout]. Kim got me a cool pale blue Baby Milo short-sleeved sweatshirt, I think he had the washed-out pink version. He'd sit on the window sill by my desk, he was a good laugh.  
Alastair McKimm: He probably won't remember, but I met Kim in Mandi Lennard's basement in the early 2000s when he'd just graduated from Saint Martins. He was so connected to the street and the crossover between streetwear and high fashion, which I've always loved. He was such an important part of the London scene and all that represented. What Kim was doing at that time felt very different to what was happening across the rest of the fashion landscape and yet completely relatable to me personally. Everything from streetwear to couture, wildlife to nightlife, art and culture — he pulls everything together at the right moment.
Alasdair McLellan: My friend Jo-Ann Furniss has always had very good fashion antennae, she always seems to know what was good, what would take off. She started talking about Kim and said that we should meet, so she introduced us, and we started working together. It was as easy and simple as that — we just got on! This must have been around 2003 or 2004. I think he'd just done his first show, and there was a bit of a buzz about him. We started working together on editorials, and then a Kim Jones ad campaign that we obviously did for nothing and tried to get in magazines… things like that. And it just went from there.
Michael Kopelman: I went to Pineal Eye because that was an interesting, underground fashion school, a slightly avant-garde store that had lots of new stuff, and I noticed some of Kim's t-shirts in the store. They caught my eye. I can't remember too much about them, but they said they were from a Saint Martins student called Kim Jones. I wanted to meet him and I did around 2005. I had three or four shops in London at the time: a sneaker store called Foot Patrol which was the first kind of sneaker boutique, a select goods store called Hideout, a Bathing Ape store, and a Stüssy store. Kim came to work with me in the Hideout a little while after we first met.
Honey Dijon: I was in London, DJing at a club with my best friend Derrick Carter, and we went shopping at Black Market Records before walking over to The Pineal Eye. There was a window installation of Chicago house music flyers and the iconic records from the beginning of house culture, and I was like, 'Who is this person that knows so much about my history?!' It was like a complete slap in the face, because it was so well researched and so detailed — and it turned out to be Kim Jones. 
Lulu Kennedy: I think it was outside The Joiners Arms, really drunk, but it could have been in The George and Dragon on the dance floor. But the first time I became aware of him was when Louise Wilson told me that this guy called Kim was amazing, and that I would love him as a person and a designer.
Charlie Porter: London fashion was very troubled and conflicted at the turn of the millennium. There'd been this extraordinary surge of talent in the late 1990s, around Alexander McQueen, Hussein Chalayan and many other designers who became part of the energy that was in the city. When McQueen got Givenchy and then eventually moved his own shows to Paris, there was this vacuum. Much of the narrative around other designers was, 'Would they be the next McQueen?' It's always the worst thing when people are played off against each other or seen as the 'next' anything, so it was really hard for young designers to find their own way.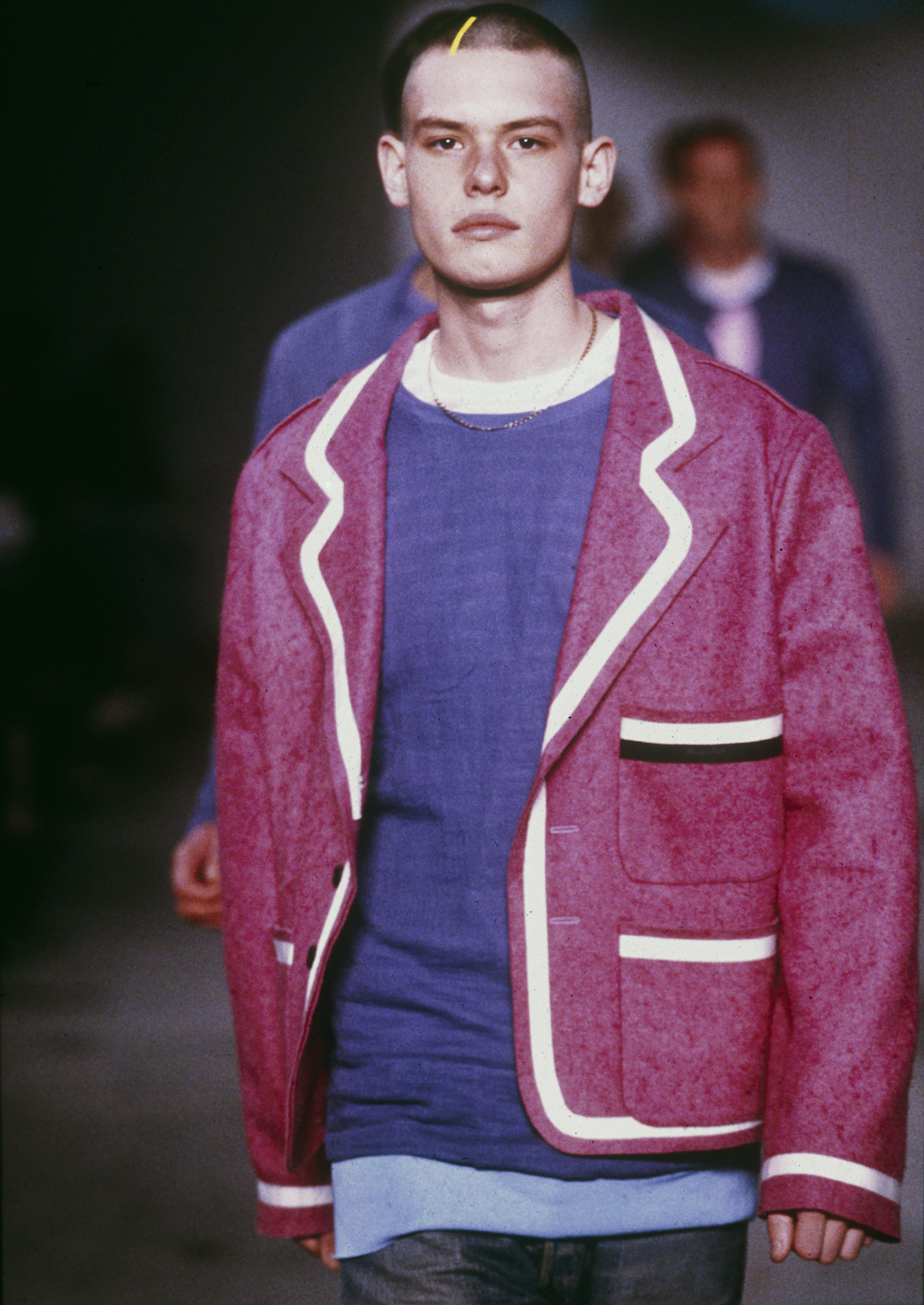 Kim Jones 2002 CSM MA Collection. Image courtesy of Fabio Piras
Fabio Piras: Kim came to Central Saint Martins to help a friend of his who was in his final year. It was really fascinating to see this helper. You could tell he had a sharp eye and he was always at the fittings — you couldn't avoid him. When you see someone like that, who has an opinion with something interesting to say, it was clear he was an informed person with a fashion point of view. I must have said, 'Have you considered becoming a student on the course?' It was the year I took over from Louise Wilson, who was away and then she came back and she taught him, and they became very good friends.
Mandi Lennard: "I started working with him before his graduate show, it was very organic, given that I had a press office, and we loved the same stuff. I remember the first time I had his pieces in the office; Nicola Formichetti and Andrew Davis were two of the first to see them, and they were just flipping over it. There were military details on jackets, lovely colour combinations, cool graphics on pastel T-shirts, all the stylists loved the pants, and all the girls wanted it too."
Michael Kopelman: He didn't have a big ego and he was very interested in what I was doing. He's quite understated and he was fun. I remember showing him early catalogues of Christopher Nemeth's that I used for selling, with all the polaroid photos. Kim was interested in everything. He took things a lot further than I did. He worked for Hysteric Glamour, helping them. And then we made a collection together, which I sold through a company called Good Enough, which was my distributor, and Hiroshi Fujiwara. We were both interested in utility stuff, very functional stuff. We used part of a graphic that was inspired by Keith Haring on t-shirts. It was really fun working with him, because he just understood the things that I was interested in.
Charlie Porter: I remember Kim's first show at London Fashion Week so vividly. It was in September 2003 at 291 Gallery, a venue that had meaning and importance — it's this old church that's just off Hackney Road, where the people from The George and Dragon used to hold these amazing parties. The show had such a different energy, a new energy, compared to what else was happening in London at the time. There were no menswear shows — it just wasn't even a thing that was talked about. Kim wanted to show menswear, but the only way he was allowed to was if he also showed womenswear. So he enlisted his friend Marios Schwab to design the womenswear pieces, a fact that he was very open about. In that very first show, you can really see the building blocks of everything he's gone on to do since.
Photography Alasdair McLellan
Lulu Kennedy: I didn't get into that show. It was legendary. The capacity was about 200, but Mandi had invited about a thousand people, and then another thousand just turned up on top of that. I think the police came — it was hilarious! But I took one look at it and just sailed past, thinking 'I'm not gonna try that!' I think it's one of my favourite collections of his, so I'm very sad that I missed it.
Charlie Porter: That was the end for him in London, though, because the next season, he went to Paris. London didn't want him — and that's a really crucial thing: London had one of the most consequential designers of this century in its hands and it didn't want him. That has left a massive impact on London menswear, because Kim's actions in 2003 led to Lulu setting up MAN, which was the Fashion East menswear showcase. It was completely fueled by people asking: Why is this incredible talent not able to show in London? And, therefore, how many incredible talents are there who should be showing in London but aren't? By being so brave and determined to show menswear, Kim really started pushing open the floodgates for menswear in London.
Fabio Piras: I still refer to his AW07 show in New York, which was set in this very minimalistic gallery space. It was absolutely mesmerising. We sometimes forget that he was at an incredibly high level from the start. He set the bar extremely high for himself. There are codes that were there from the beginning and he has always played with them. The first shows were setting the ground for this aesthetic that is inspired by streetwear and club culture, and contemporary art. Those shows, the reason they were exciting for me, is because there was a strong approach to them.
Honey Dijon: That New York show was the first time we collaborated. It's always been complete, complete collaboration. If he gives me a reference, I'll know exactly what he's talking about, all the way down to how the blend should sound, or layering different acapellas over different parts of the track. I think that we really speak the same language; he trusts me and I trust him. We've worked with some incredible people — Giorgio Moroder and Nile Rodgers, for example — and it's been incredible to work with someone that's so knowledgeable. It makes it a lot easier for me to put a bit of my personality and what I do as an artist into the collaboration, so it's never one-sided.
Alasdair McLellan: We used to shoot the campaigns in his back garden — or we might be in a studio, but we'd then go outside to take some pictures on the street. There was a real spontaneity and freedom to it. We'd just find someone we wanted to photograph, and be like 'Oh, this kid's great, let's just shoot him!' While, technically, Kim was a client, it never felt like that, and I imagine that anyone who's worked with him closely will say the same thing.
Steven Philip: It was great that he had done his own label, and then Umbro. It's a great learning curve to do different, various things.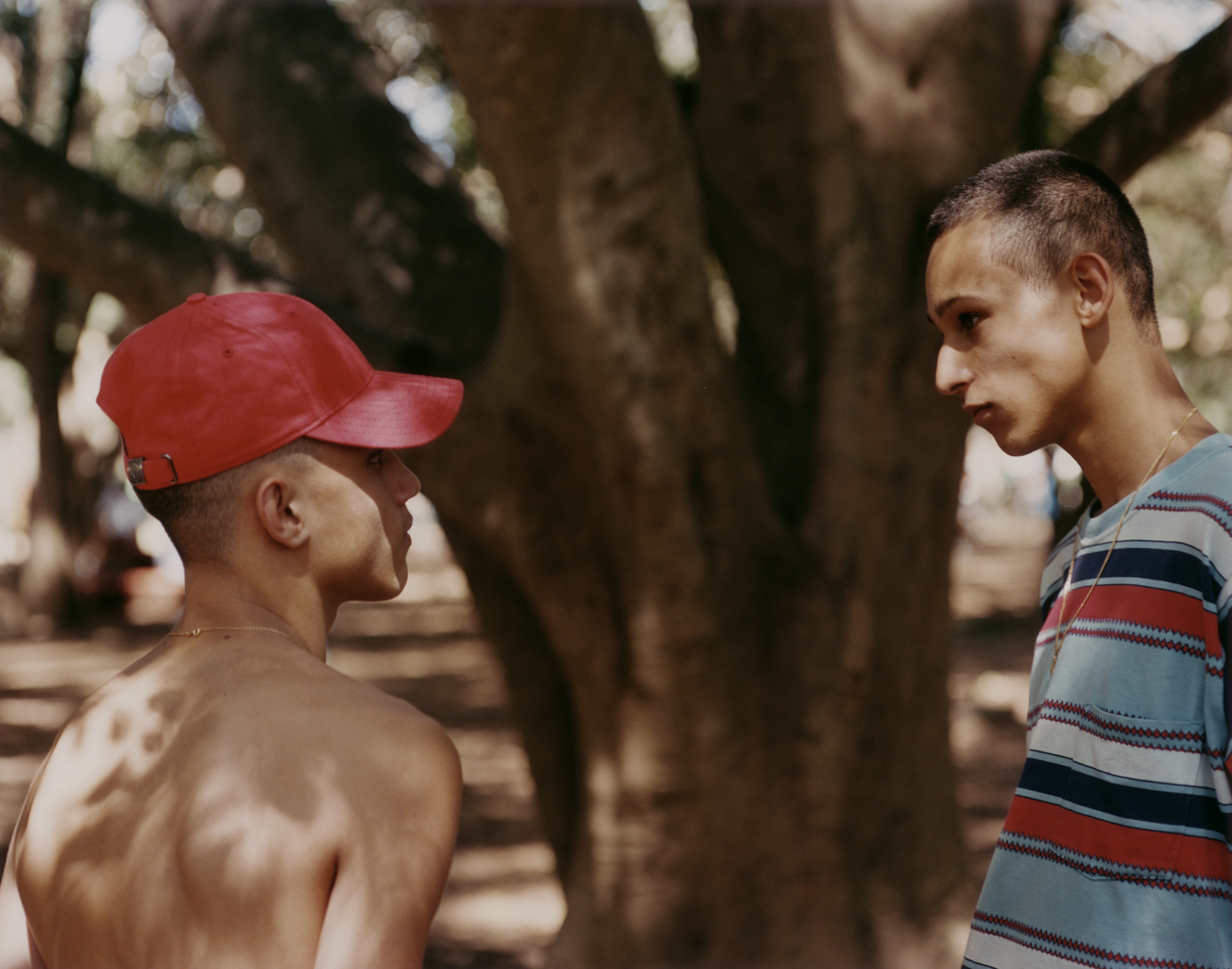 Umbro by Kim Jones. Photography Alasdair McLellan
Alasdair McLellan: "Back in 2005, Umbro wanted something based around football, so Kim was really keen to do [a campaign] in São Paulo. If any country and city in the world embodied an obsession with football, it was Brazil and São Paulo. Because Umbro's so English and has this real heritage of being an English brand, we wanted to do something that felt quite different in terms of the casting. We focused on street-casting kids around São Paulo, and taking pictures in the clothing. I think Kim just wanted to do something that didn't feel like anything you'd expect from Umbro. 
Steven Philip: But it really came into itself when he went to Dunhill. It has style and class and it brought back certain memories for me as a youth: if you had Dunhill cigarette lighters or suits, you were a gentleman. When Kim went to Dunhill, I felt like it was amazing for the company and amazing for him because he was learning about tailoring, and the legacy and institution, but what he brought was his kind of passions. At Dunhill he kept the tailoring, but brought his youthfulness. There'd be a bag or a cut that felt more youthful."
Lulu Kennedy: And straightaway, there was a Kim Jones boy who was very identifiable. And the way he cast those boys, the way he shot them, was something that I think felt very Kim. And once you have a guy, you have a customer and a look. It was just always really hot, a really hot boy in a really banging outfit — you just wanted it all.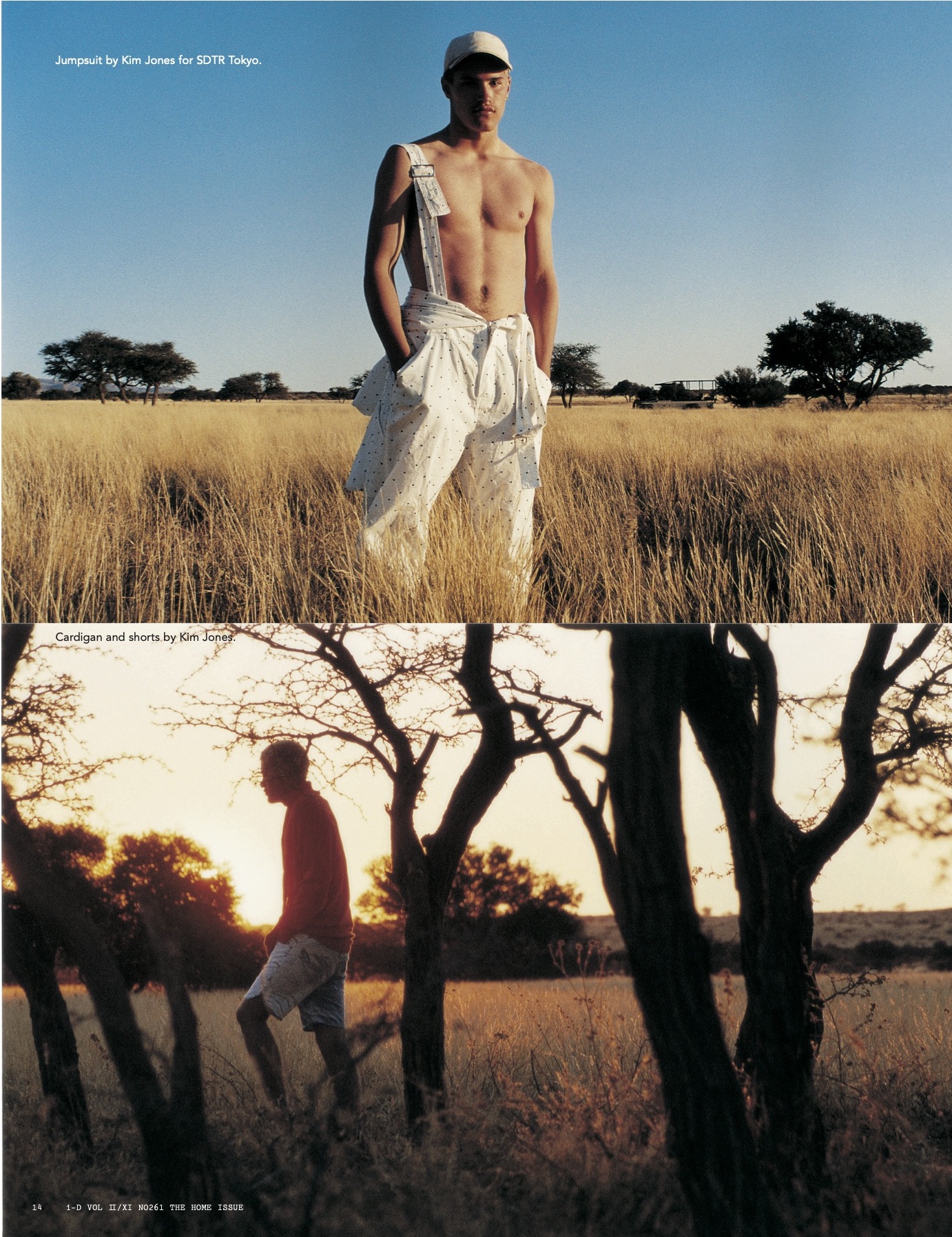 Kim Jones' work in i-D's December 2005 issue. Photography by Kim Jones and Pretorius
Mandi Lennard: He's a pioneer as he recognised that easy, lowkey, slouchy way kids want to dress. He was the sort of person that recognised that a brand like Porter, that no-one knew back then, was the Japanese streetwear equivalent to the quality of a maison like Hermès. With all those brands in Tokyo, including Jun [Takahashi], the underlying thing was quality — you could wear it all inside out, it was that good a finish.
Charlie Porter: At Louis Vuitton, his designs did something very subversive. He took these pieces that you knew referred to rave culture — it could be a big windcheater or an oversized bomber jacket — and he flipped them, turning these countercultural pieces into things that a CEO would want to wear on their yacht. He infiltrated luxury fashion with counterculture. 
What Kim did is completely understand how to bring different worlds together in garments and ways of dressing. In that first show, he brought together preppy freshness with ravewear and sportswear, and he did it with a confidence that really predicted how many men would then come to dress. 
Steven Philip: It's bringing in the passions that you have in life into your work, but in a way that it isn't totally different to someone else. A lot of people who will have bought Vuitton who didn't know who Christopher Nemeth was, but they still bought it. 
Lui Nemeth: Kim is very interested in what was happening in fashion/ music culture in the late '80s, and my father was one of the people who came out from that period. I think he admired my father's originality and his DIY spirit. My mother told me he had mentioned collaborating a few times to my father but it never happened. So when my father had passed away, he contacted us again to do a collaboration with him at Louis Vuitton to celebrate his life and work. He gathered the team of people who were collaborating with my father in the late '80s, such as Judy Blame, Mark Lebon, and so on. As my father left London in 1986 to live and work in Japan, it had been difficult to work with the people he used to collaborate with. They worked very closely with each other, so it was a great thing that Kim brought all the family back together. 
Charlie Porter: The [AW15] Nemeth collection was a really special gathering of humans. And then there's the intention behind it as well — the fact that Kim has a deep love for Nemeth and those creatives from the early 80s that he personally collects. It was really about helping Nemeth's family, and by doing the collection — and doing it properly — he was able to support them. To ensure that he was getting a true sense of Nemeth in the collection, he got Nemeth's friend Judy Blame — who was Kim's friend, too — to come to Paris and work on the collection in the studio, to keep an eye on it to make sure that everything was true to Nemeth. By doing that, he also gave Judy work. He brought all these elements together to make something good happen  which is incredibly rare, to take that much care. Or even care, full stop.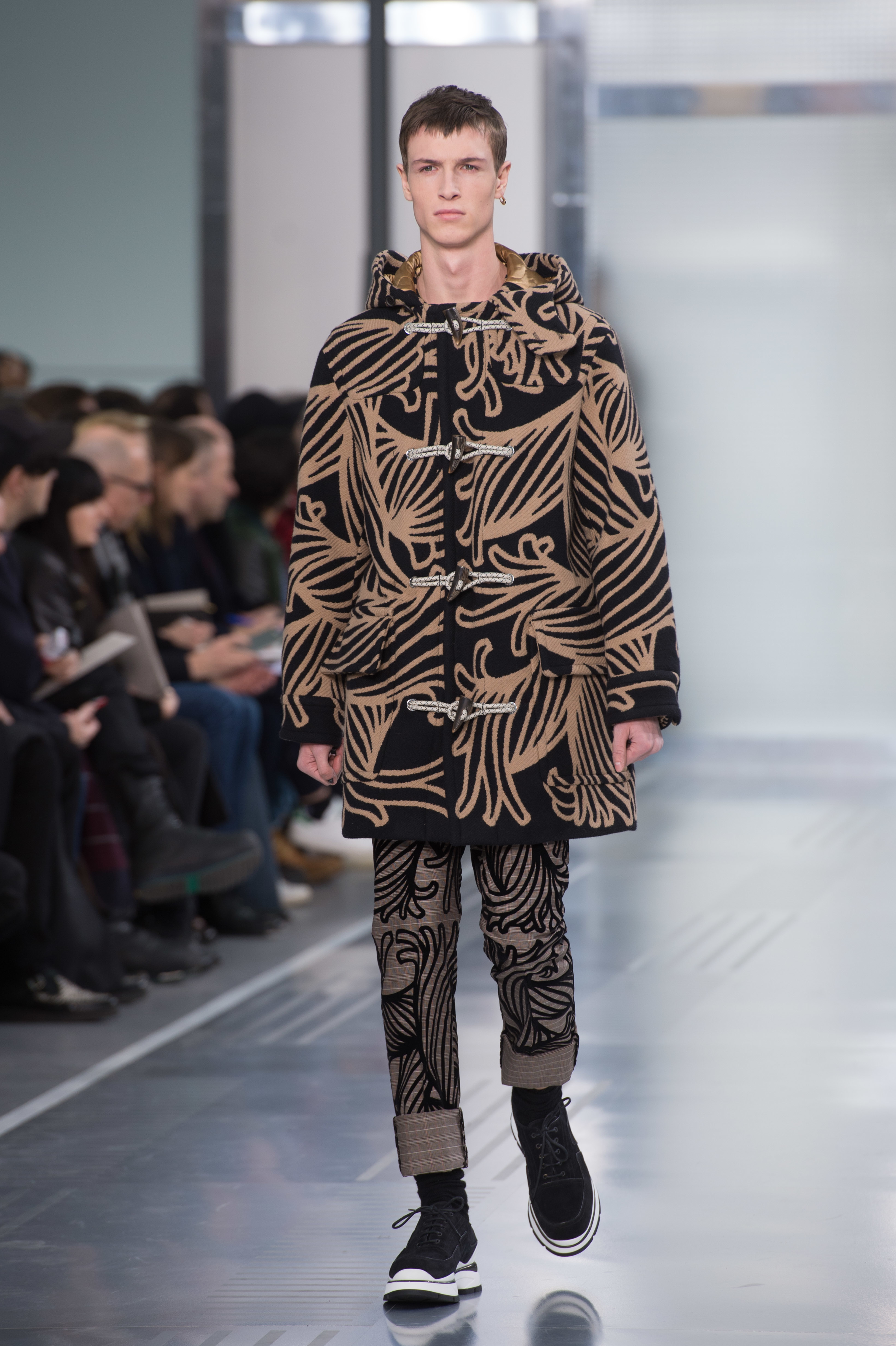 Louis Vuitton Men's AW15. Photo by Stephane Cardinale/Corbis via Getty Images
Lui Nemeth: Lots of people came to know about our brand after that, more international exposure which was of course a great thing but also with this collaboration it brought my family back together as me and my sister used to live in London and we came back to help my mother. It seems like Kim had made us unite again after my father's death, and we have been building it up together since then.
Steven Philip: Both of us are enthusiastic hunter-gatherers. He collected a lot of the punk stuff, and a lot of the '80s designers, a lot of them people didn't know about, like Stephen Linard, John Flett. It was a wonderful period because everyone could be a designer. It wasn't like today, at that time people didn't aspire to go and work at this house or that house. People would work in Kensington Market, or Hyper Hyper on Kensington High St. People would graduate and have a small space there. It was cheaper rent, and you spoke to the people who were wearing your garments. Kim would always look for the unknown and forgotten heroes.
Fabio Piras: It's a genuine archive, not just downloaded on a desktop. You have to know it. He has a collector's mind, it's all absorbed by this designer. That's what's fascinating about him. If there is a reference to Judy Blame, it was based on his relationship and it's personal. There is a credibility that comes from bringing in these catalysts. He understands his time and is someone who has an ability to be very commercial. It's not fashion that you don't understand. It's very personal and that's why he has been able to have such a career.
Lui Nemeth: With his collaboration works, he wouldn't just take the top surface, but he has great understanding and respect towards all the artists and designers he collaborates with. With our collaboration as well, Kim told us that he wants to represent my father as an artist than a designer, so he only would focus on my father's 'Rope' prints instead of using any of the cuts from my father's patterns.
Lulu Kennedy: He's always having fun with it, you know? He'd always be there at the end of his shows, laughing his head off and basking in the very deserving applause. It's just great energy to be around. It's like when a stand up who's really confident gets up and they're fucking hilarious, you can relax and just laugh and you know you're not going to be curling your toes — it's a real pleasure to watch someone who's in the zone, just doing their thing and being very good at it. 
Alastair McKimm: Personally, I'm obsessed with his collaborative approach. The confidence and experience it takes to not lose himself in the collaboration is a true testament to his talent. I'm excited to see that evolve.
Kate Moss: He brings art and music into fashion which I love, it's really inspirational. 
Stephen Jones: He's a collector; he collects the books, the paintings, and all of those things, so it's not as though he's looking up something in an art reference book or a fashion reference book. He's actually meeting the person. He knows what he likes but he's fascinated by other people's work, too, which is why he collaborates with other artists. He's very interested in their point of view and the things they create. He wants to be challenged by them and he wants to learn from the experience. 
Lulu Kennedy: That Supreme collaboration was a really nuts moment. I was sitting opposite Virgil [Abloh] and all the guys from Supreme when the first boy, Noah Luis Brown, came out and it was just nuts. It was just such a huge cultural moment.
Michael Kopelman: Kim and I shared a common interest. He is now a head designer for two massive house brands, but I want to think there is a connection between us in mentality. I started Gimme 5 in 1989, and I worked with Stüssy and Judy Blame and Hysteric Glamour, and with Supreme and Stüssy since they started. I also represented Christopher Nemeth and I was always excited by the mix of those English things, mixed with the American and Japanese things. I don't believe in wearing clothes or one brand as uniform, and I like the way they appealed to young people.
Lulu Kennedy: Kim's work was connected to reality. It wasn't this high-fashion, bullshit fantasy thing, it was connected to stuff that was going on in the wider culture and subcultures; it was connected to his friends. He's someone who's always surrounded by a million friends, and he always works with them. It felt like that was what he was doing with his early streetwear — for want of a better word, because that's what he was into at the time. His work was all about the life he was living, his travels and the people he was hanging out with.
Fabio Piras: No one has really done that since Helmut Lang, that kind of elegant informality. It defines the time we're in now, and how we've changed as a society. 
Steven Philip: When Kim went to Dior, he had taken Vuitton as far as he could. He's not frightened of change or movement. Another side of the fashion world, or even the art world, is that if you get a job like that you end up staying there. But you have to continue or move on to keep the juices flowing.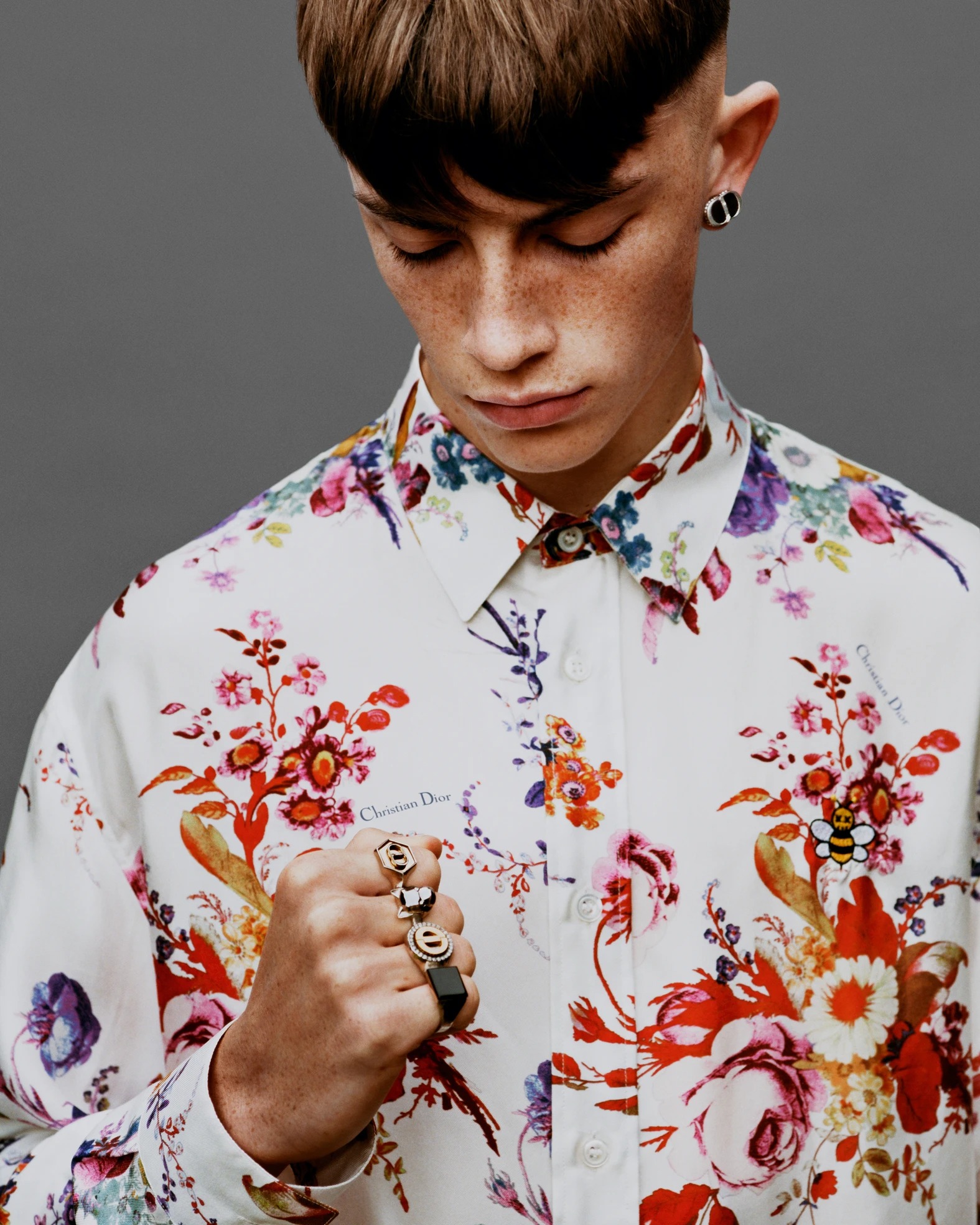 Dior SS19 in the Winter 2018 issue of i-D. Photography Alasdair McLellan
Stephen Jones: I have been at Dior for 25 years this year. Just welcoming Kim into the house was an amazing thing for me. Dior is not my home, but being able to talk to him about Mr Dior and explaining the dynamics in the house, being able to show him Mr Dior's slippers or hats, or just to be a guiding light and to make him feel comfortable in his new job. That was really special. Meeting him on the grey staircase which Marlene Dietrich had been sitting 50 years previously and saying: "Kim, lovely to see you, come this way." Kim's vision for Dior is a really different aesthetic for men. It's pastel and languid, but it's not camp. That's a very unique and difficult balancing act to do. He takes the best of femininity and masculinity, and somehow combines it together in a non-showy way.
Charlie Porter: Kim has been very clever with his approach to Dior. It's a house where there was no history of menswear until Hedi [Slimane] started Dior Homme, and so each designer there has to really work out what it means to do menswear at Dior. One of the cleverest things he did was look back on Dior's history as an art dealer, connecting with Dior himself and his link with art. With his individual artist collaboration series he's very much trying to bring Dior alive, and it's something that, actually, very few creative directors do at heritage houses.
Stephen Jones: When Hedi went to Dior, John [Galliano] was absolutely channelling Monsieur Dior and Hedi had to do something very different, so he invented what we now think of as the 'Hedi aesthetic'. Now, time has passed and both John and Hedi have moved on, so Kim had free reign to interpret that romance of Monsieur Dior, who said "I design for the flower woman". Kim designs for the flower man. Vuitton is about travel and luggage, but Dior is born out of fashion with a capital F. It has always been wonderful, creative and crazy. It wasn't about practicality, it's about being beautiful and fabulous.
Fabio Piras: It's interesting the way he's dealt with masculinity at Dior. It's making it relevant, not necessarily extreme but it's elegant. Elegant is a word a lot of people don't like to use any more, because it seems retro now, but it is elegant. He is an elegant person and he is an elegant designer.  
Charlie Porter: What he's done at Dior men is to bring a new pace, where the clothes don't actually change so much — it's more about creating and consolidating a world. Whenever you visit Kim at Dior, there are always couture-level pieces with the most extraordinary work. Kim has already been working at that level, and doing it with ease.
Steven Philip: He's a Virgo — he has an amazing attention to detail. He could spend three weeks on the smallest thing, it could be a buttonhole. 
Honey Dijon: I think he's really elevated what we now call streetwear to couture level. And now at Dior he's breaking down the barriers of couture, which for a long time was only associated with womenswear. I think he's elevated menswear to a couture standard. He brings things that would be associated with streetwear and elevates them through craftsmanship and material, using couture embellishments to push things even further. It's impacted so many people, and I think he'll definitely be one of the greats.
Kate Moss: His collections go from strength to strength, I feel like he is only just hitting his stride, there's so much more to come. 
Alasdair McLellan: When I look at his work at Dior and from his time at Louis Vuitton, even though there's way more sophistication there and it's grown so hugely — and he's grown a lot as a person, too — I still see the same person that was there at the very beginning. There's still the same type of personality, he's dressing the same sort of characters, basically.
Melanie Ward: Getting to know him better, I love him personally as much as his work ethic. Kim is curious, intuitive, meticulous, he has a point of view, he knows himself, he makes confident, considered decisions and never looks back. His inherent approach to life and work is infectious. He personifies a sense of knowing.
Fabio Piras: Fendi is a real challenge for him because he hasn't done womenswear. It's amazing to see at this level of establishment, the risk he wants to take. It shows bravery as a designer and how up for risk he is.
Lily Allen: I must have spent half the money I made last year on 'Congratulations Kim' flowers. It just kept coming: an OBE! Fendi! Best Dior show I've ever seen! It's just been constant accolades. He's worked so hard, and all the time he spent in Paris doing Vuitton was very isolating for him in lots of ways. He is happier now and it feels like a new era and a new lease of life for him. He's gotten to the place he's been working towards all these years, which were tough for him being there without his friends or family being around.
Charlie Porter: I think Kim will bring his many levels of understanding to womenswear in terms of understanding how garments work and how garments work together. Fendi is one of the houses you can have fun with. I mean, Silvia [Venturini Fendi] had Pat Butcher on her backstage moodboard a few years ago!
Alasdair McLellan: Kim has always just stayed true to himself in terms of what he's about and what he's interested in. I don't think he's changed that much despite all of the spotlight thrust upon him — from Louis Vuitton to Dior, and now doing womenswear at Fendi. The fact that he still works with people who have been with him since the start, like Lucy Beeden [Kim's right-hand design director], proves that. I remember when he used to have a little office in his house in Warwick Avenue, and she was there from the start.
Lily Allen: He reminds me a lot of Karl in that way that he had that team of people around him, that no matter continents they were in when it came to show time, they were flown in and were sitting around a table discussing the collection. Kim has his confidantes and his people, those who he trusts. He has his people. He is also like Karl in that way, because he can't stop. It does worry me sometimes. I texted him today because he just finished the Dior show and is gearing up for Fendi couture, and I just wanted to see he is OK with the workload. But the workload is the one thing that is never an issue for him. I'm in awe of how he balances it all.
Stephen Jones: Kim is very clear and concise in the way that Karl was. He says something once, not a million times. He makes his point of view very clear. But funnily enough, I wouldn't compare him to Karl. Karl came from a very different background and was a very different designer. When I think of Karl — and he would kill me for saying this — I think of him in history. The houses he worked for often had historical reference, whereas I think Kim is resolutely modern and about the future. The reason that he is at Dior and Fendi is because he's about the 'now'. Karl was about the now, but that was 30 years ago.
Melanie Ward: He personifies the type of wisdom that one acquires from a way of being, it is related to character, to empathy [which] fosters a great workplace ethic. Fundamentally, he encourages a great team spirit, an ethos of support, the discovery of new things together, always pushing forward. I sense that everyone wants to be there in the design studio participating.
Honey Dijon: He treats everyone in the studio with respect and love, and it's a wonderful environment to work in. He's just a very loyal, good-hearted person, and very genuine.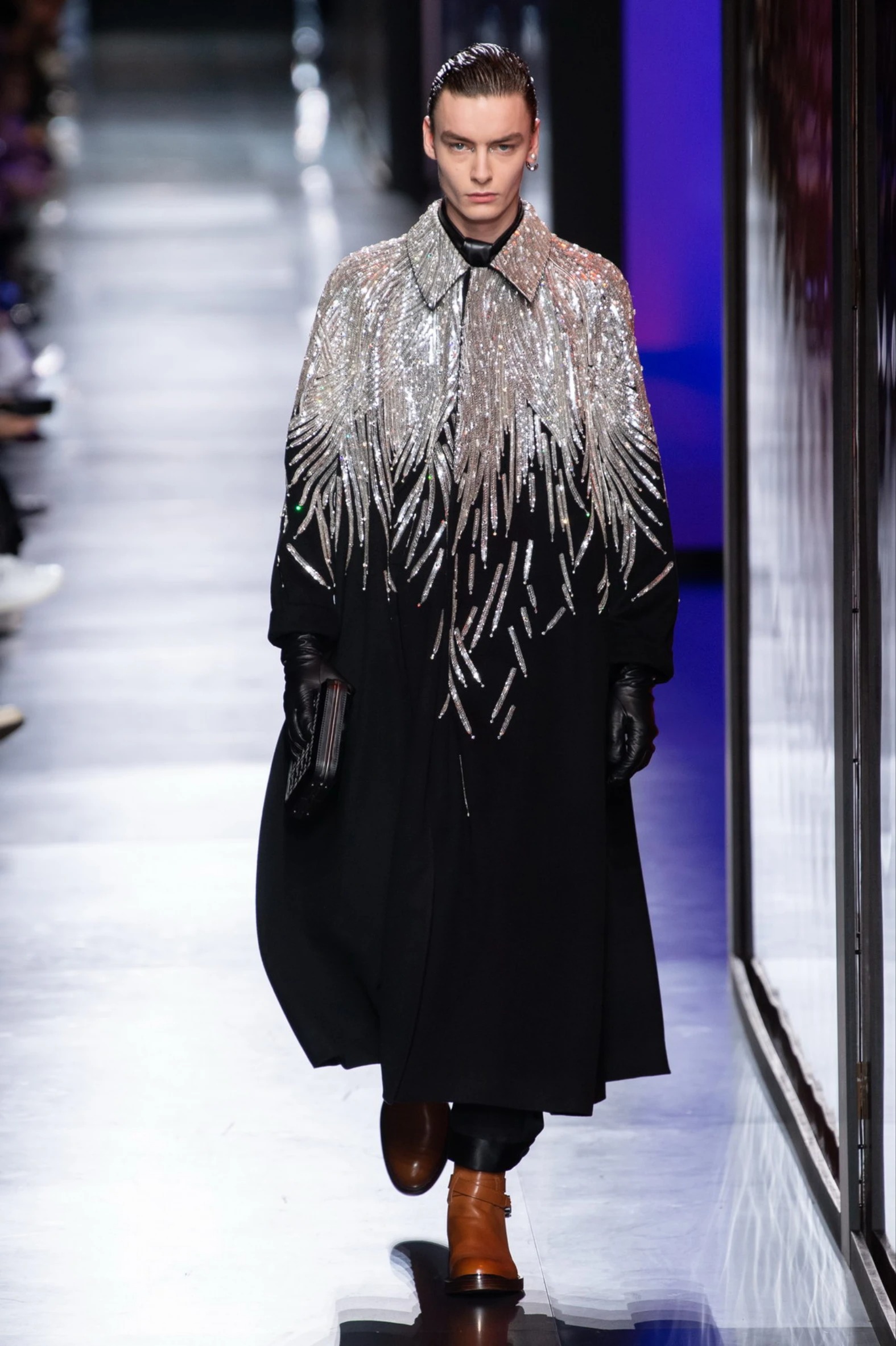 Dior Men AW20. Photography MItchell Sams
Charlie Porter: Kim has been absolutely, completely dedicated. He's never taken no for an answer and has always done what he knew he could do — even when he wasn't considered to be at the same level as less talented contemporaries of his who happened to design womenswear. He absolutely stuck with it all the time, and now we're at the point where he's considered one of the most important designers in the world for his menswear, and is about to be for his womenswear, too.
Mandi Lennard: I've worked with so many designers over the years, and to be honest, I don't need to see their stuff, you can just tell by the person, and anything Kim did was the biz. He's had all the technical experience you can imagine, he cares about his team, he thinks like a CEO, he can truly see the big picture at all times, he wants to tick those exec boxes because he is a professional, but he is still a refreshing ball of fun to have around.  
Alasdair McLellan: I think that most truly great designers don't really change their creative point of view as much as you think they would, and I don't think that Kim, in particular, has. The thing is, he's got very diverse points of reference. There's so much stuff that he's genuinely interested in, and he has very good taste. But there's always a part of him that wants something young and fresh. And he has an energy that always has a certain lightness to it, a sense of universal appeal.
Lulu Kennedy: He's never going to run out of inspiration, there's always something fascinating him, something that he's passionate about, whether it's art or travel, literature, or all of the people that he's meeting constantly. He never does run out of energy. He's at his peak moment, and he's still as hilarious as ever. And he's kind, he makes time and is thoughtful. It says a lot if someone can have that level of fame and keep their feet on the ground, keep their head down and get on with their work with a great team.