Dover Street Market reopens and Charles Jeffrey's new chapter: What's in fashion?
This week, we're bringing you a bumper Brit edition, a celebration of the chicest news to emerge from the rainy isles we call home. With just three sleeps to go until our favourite fashion emporiums open their doors again, we've got updates on the treats you'll be met with in-store at Dover Street Market and Browns, the latest on the British Fashion Council's initiative to distribute community-sourced fabrics to the nation's budding fashion talent, and a review of London loverboy Charles Jeffrey's AW21 collection — with a side of some very exciting on the label. We won't lie; Britain's felt pretty bleak over the past few months, but in the words of fashion icon Scarlett O'Hara — April 12 is another day! Or something like that. Here's what's in fashion.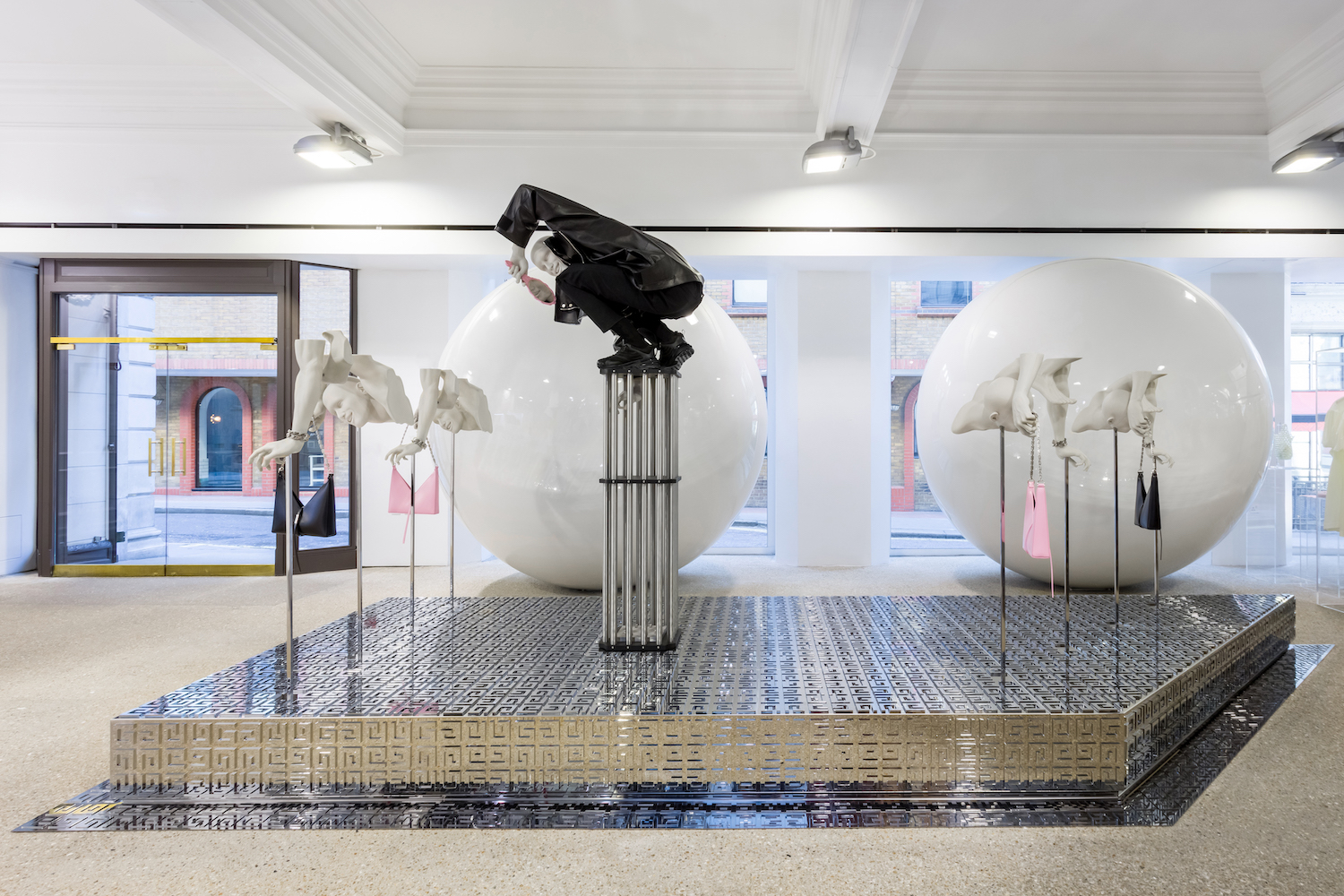 Image courtesy of Dover Street Market
Dover Street Market disciples, rejoice!
THIS IS NOT A DRILL! Calling all London-based fashion friends — our spiritual home has returned! While many have been anticipating the return of outdoor day-drinking on April 12th, the only thing we've been waiting to be intoxicated by is real-life fash-un. And there's nowhere better in the Big Smoke to get a good fix than DSM. On Monday morning, the Haymarket concept store will throw open its doors, bringing Rei Kawakubo's beautiful chaos right back into our lives as if all this lockdown malarkey was just a fever dream. Those who cross the threshold will be greeted by some of the city's most stylish installations and exclusive drops, including, but not limited to: a brand new Comme des Garçons Homme Plus and Givenchy installations on the ground floor; a first chance to get an IRL glimpse of Comme's collaboration with Japanese pearl jeweller Mikimoto; and SS21 releases from Molly Goddard, Stefan Cooke and more! You know what this means, girlies — it's time to 'revenge shop'. Pull a look, turn up, and 👏 buy 👏 your 👏 life 👏 back! MS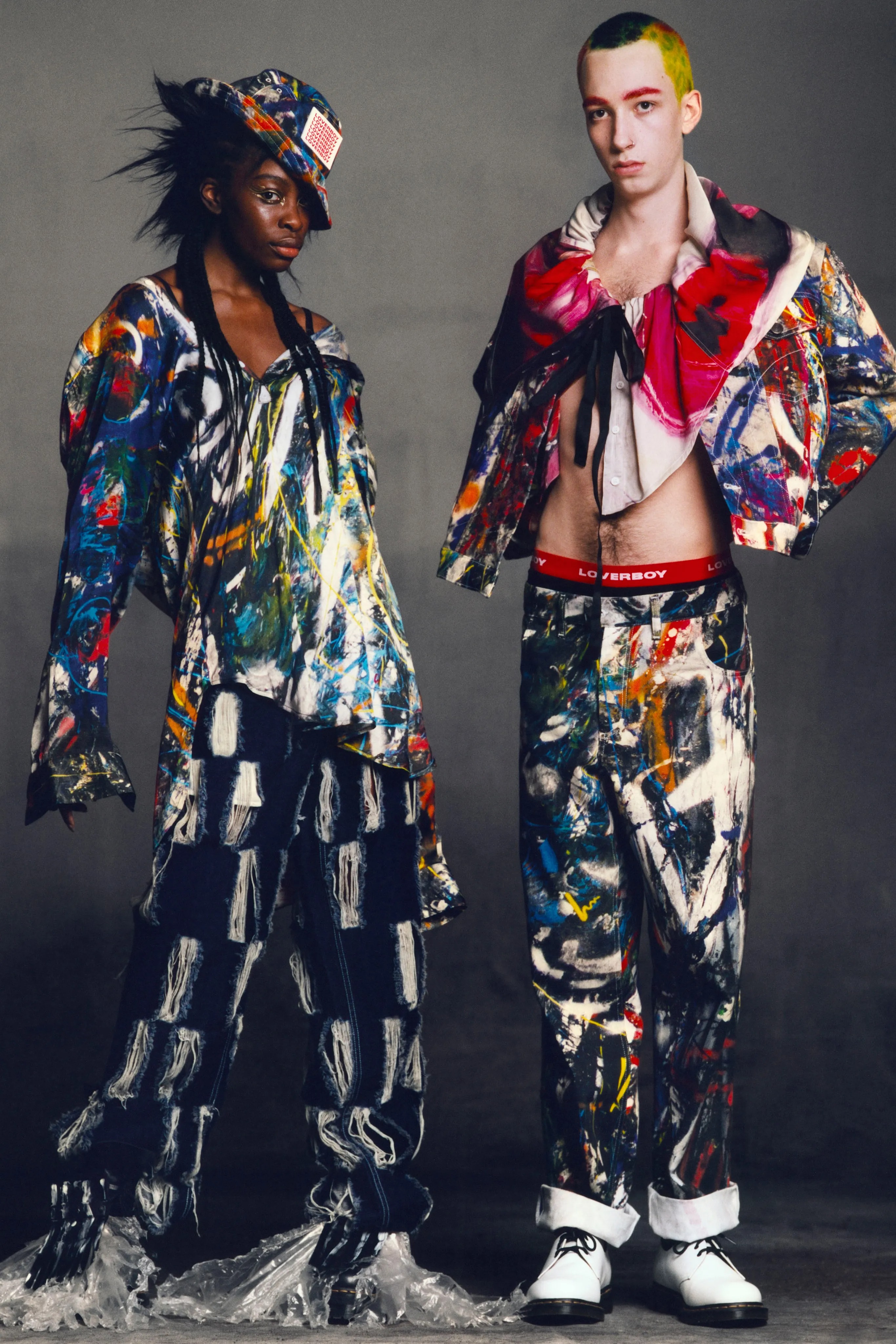 ​Photography Thurstan Redding. Images courtesy of Charles Jeffrey Loverboy
London club kid Charles Jeffrey is all grown up
Here at i-D HQ, we remember the days when Charles Jeffrey was the ringleader of East London's queer nightlife scene, always a hoot in a full beat and an outrageous outfit. But what started as the 'Loverboy' night in the basement of Vogue Fabrics in Dalston has evolved into a fully-fledged, internationally-renowned fashion house in the last six years with Charles as its driving force. Today, Loverboy is a global fashion house, henny! If you needed confirmation of that, let it be the round of investment that the Scottish designer has just received from Tomorrow Ltd, the owners of A-Cold-Wall, Colville and Coperni, to name a few.  "This will allow us to break through that glass ceiling and do more projects that inform the work and support our community," he added. "We still work with so much of our original team, and we can now give them the resources to do what they do!"
And don't they do it well? It shows in his AW21 collection, titled 'Gloom', which is perhaps his most sophisticated offering yet. Inspired by Dr Seuss' 'Midnight' paintings and Louise Bourgeois' textiles, as well as his own archive of club-night posters and punkish tartan-clad collections, Charles approached the collection as a retrospective, filling in the gaps of the last six years. "We looked back at a lot of techniques that we tried to do before but couldn't because of resources, and just go for it," Charles told us. "We've been doing this for a long time and it now means that we have the resources to do it properly without having to ask for a tonne of favours." Lensed by Thurstan Redding, his look book and accompanying zine is the first in a new chapter of grown-up Loverboy fashion, reflecting how a generation of club kids who are indeed coming of age and navigating the creative industries. We couldn't be more proud. Mazel tov, Loverbabes! OA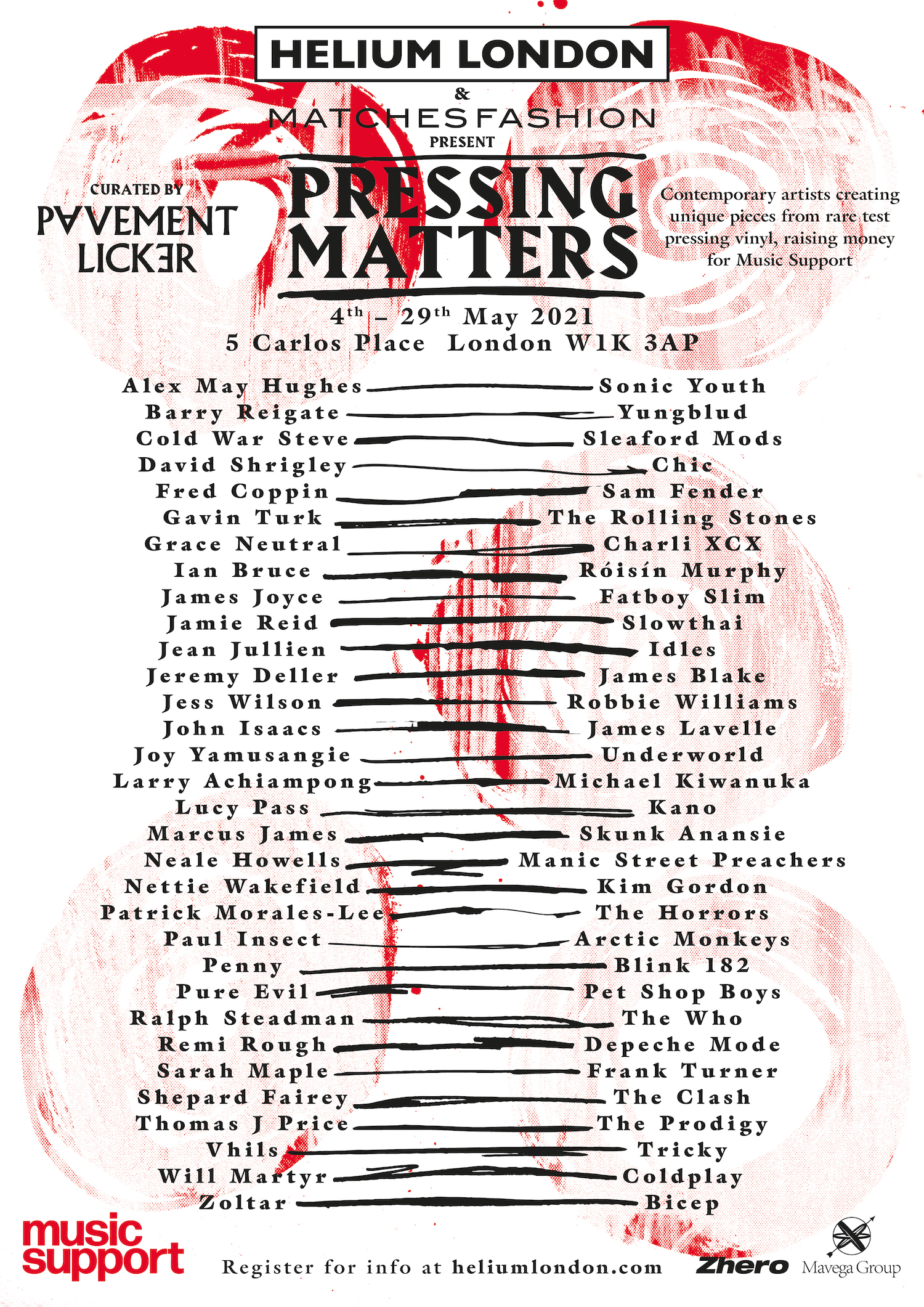 MATCHESFASHION brings you the hottest exhibition on record(s)
Music does what, according to Madonna? Ah, that's right! It makes the people come together yeahhh! Putting music's rallying powers to a good cause is the team behind London-based luxury e-commerce powerhouse MATCHESFASHION. They've teamed up with Helium London to stage Pressing Matters, an exhibition and auction arranged in aid of Music Support, a UK-based charity committed to helping people in the UK music industry susceptible to or affected by addiction and/or mental ill-health. Curated by creative agency Pavement Licker, the exhibition sees some of the most exciting names in contemporary art — like Larry Achiampong, Grace Neutral and Thomas J Price — create unique artworks from rare vinyls and test pressings sourced from the likes of The Rolling Stones, Depeche Mode, The Horrors and Kim Gordon. After its run throughout the whole month of May at 5 Carlos Place, MATCHESFASHION's Mayfair home, the show will culminate in an online auction hosted here in its closing week. Paddles at the ready! MS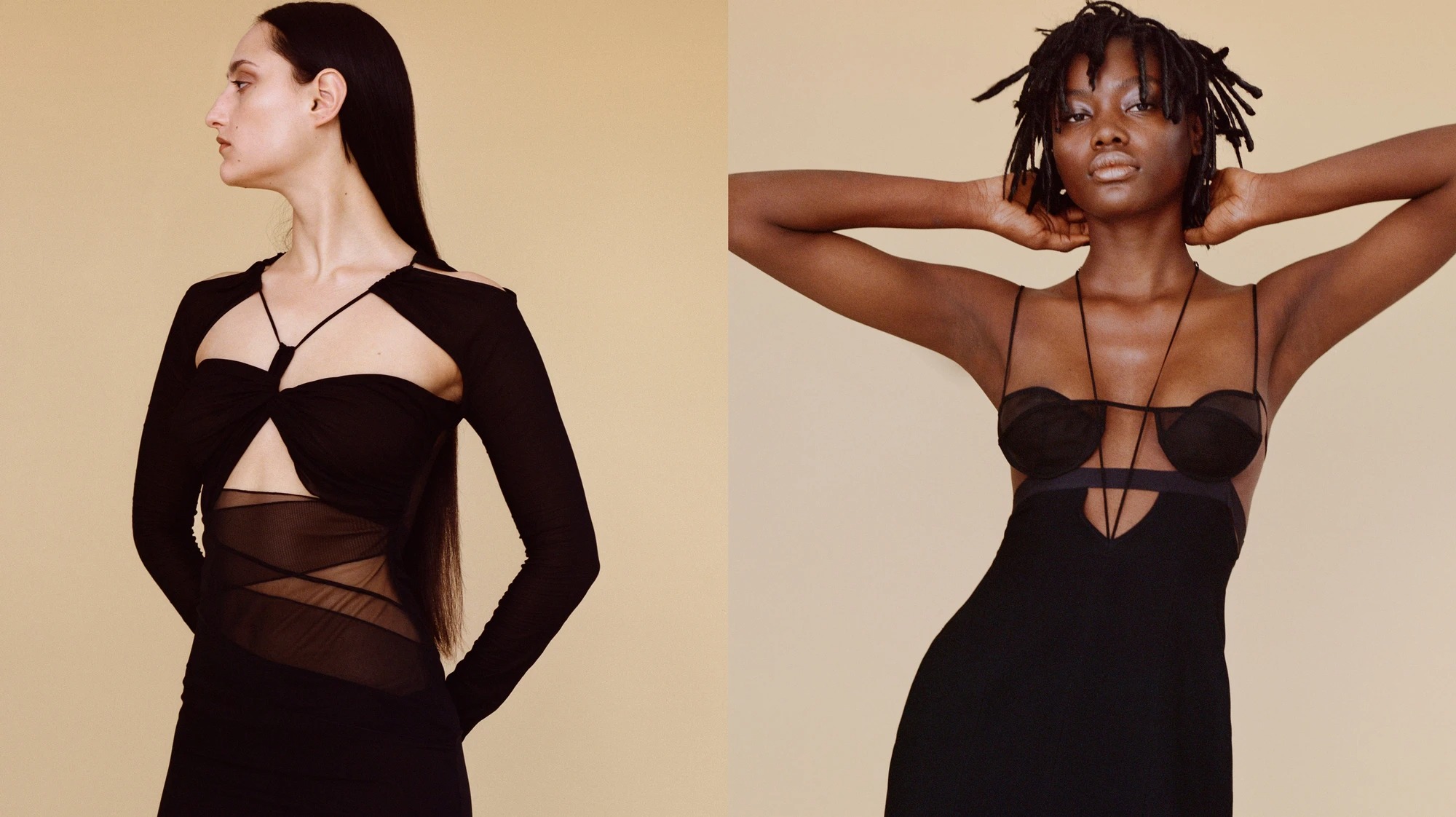 Images courtesy of Nensi Dojaka
Sex, safety and politics: what the 'Going Out' dress means now
Who doesn't love a trend? Especially when it involves getting dressed UP! This week, fashion writer Hannah Tindle explores what the return of the 'Going Out' dress — you know, the slinky, strappy, sexy minidress — means in 2021. As always, there's more than meets the eye. Speaking to a range of women designers re-defining the out-out dress — including Supriya Lele, Charlotte Knowles and Nensi Dojaka — she explores what the return of 'sexy' means amid wider conversations about women's safety. With nightlife on the cusp of re-opening, consider it essential reading. OA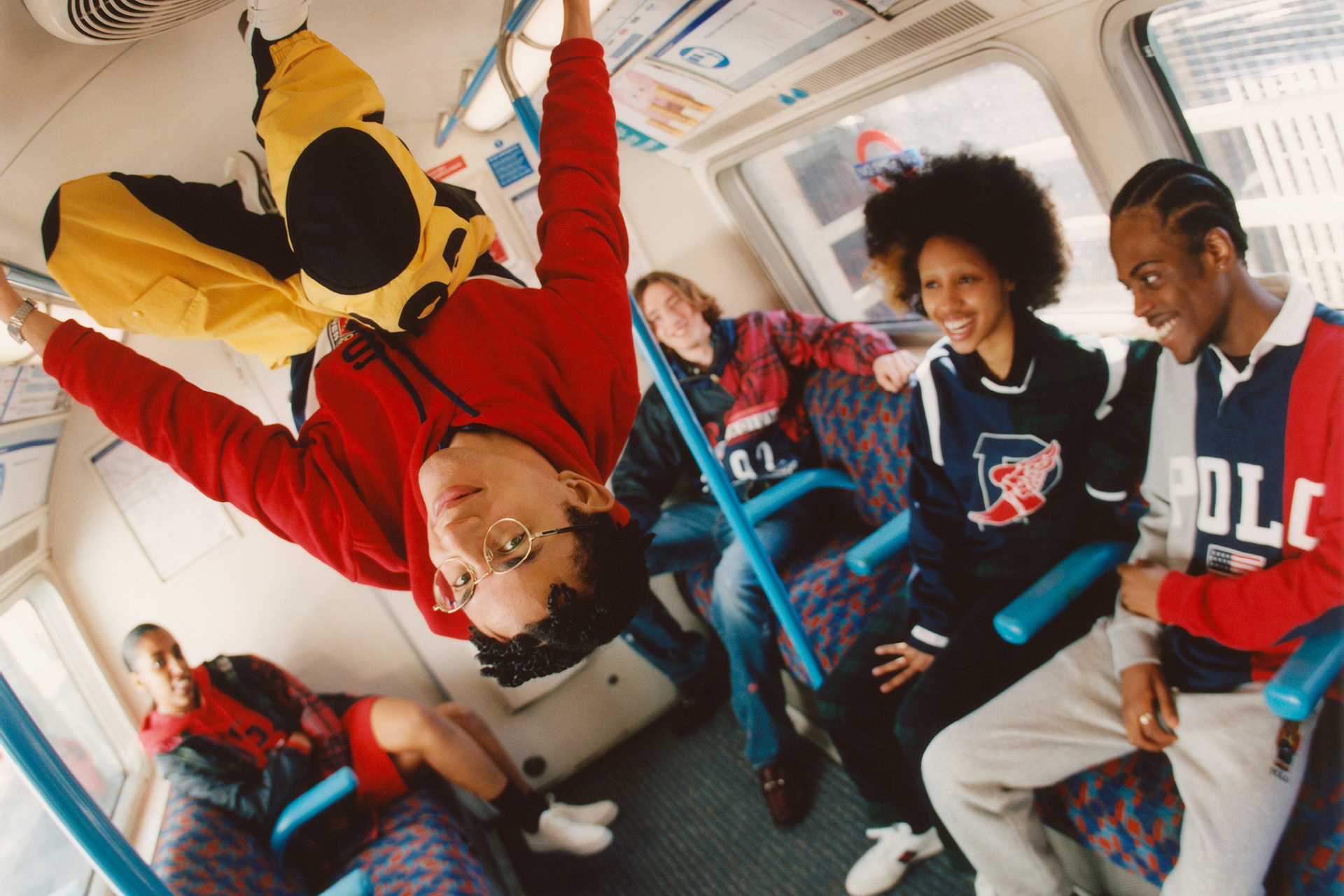 Browns and Polo Ralph Lauren throw it back to the 90s
Hmm, all this talk about London's chicest retail hotspots and it still feels like there's one missing… Browns, of course! On Monday, the store that kickstarted the careers of designers like John Galliano and Alexander McQueen will start a bold new chapter in its just-over-half-century history, opening the doors to its brand new home on Brook Street in Mayfair. What better way to commemorate their move to the heart of the city's swankiest shopping district, then, than with an exclusive collaboration with one of the brands it first brought to Britain's shores: Polo Ralph Lauren. Though Browns first started stocking the label in the early 80s, it's to the all-American brand's 90s heyday that they looked to for inspiration, creating a capsule that speaks "to many of the classic and much-hyped Polo Ralph Lauren collections from years past," says Browns buyer Lee Goldrup, while retaining "a familiarity that feels completely relevant in 2021". With its roomy, unisex styles that riff on heritage tartans and bold blocks of colour, this is just the extroverted comfywear we all need as we begin to poke our heads out from our shells. MS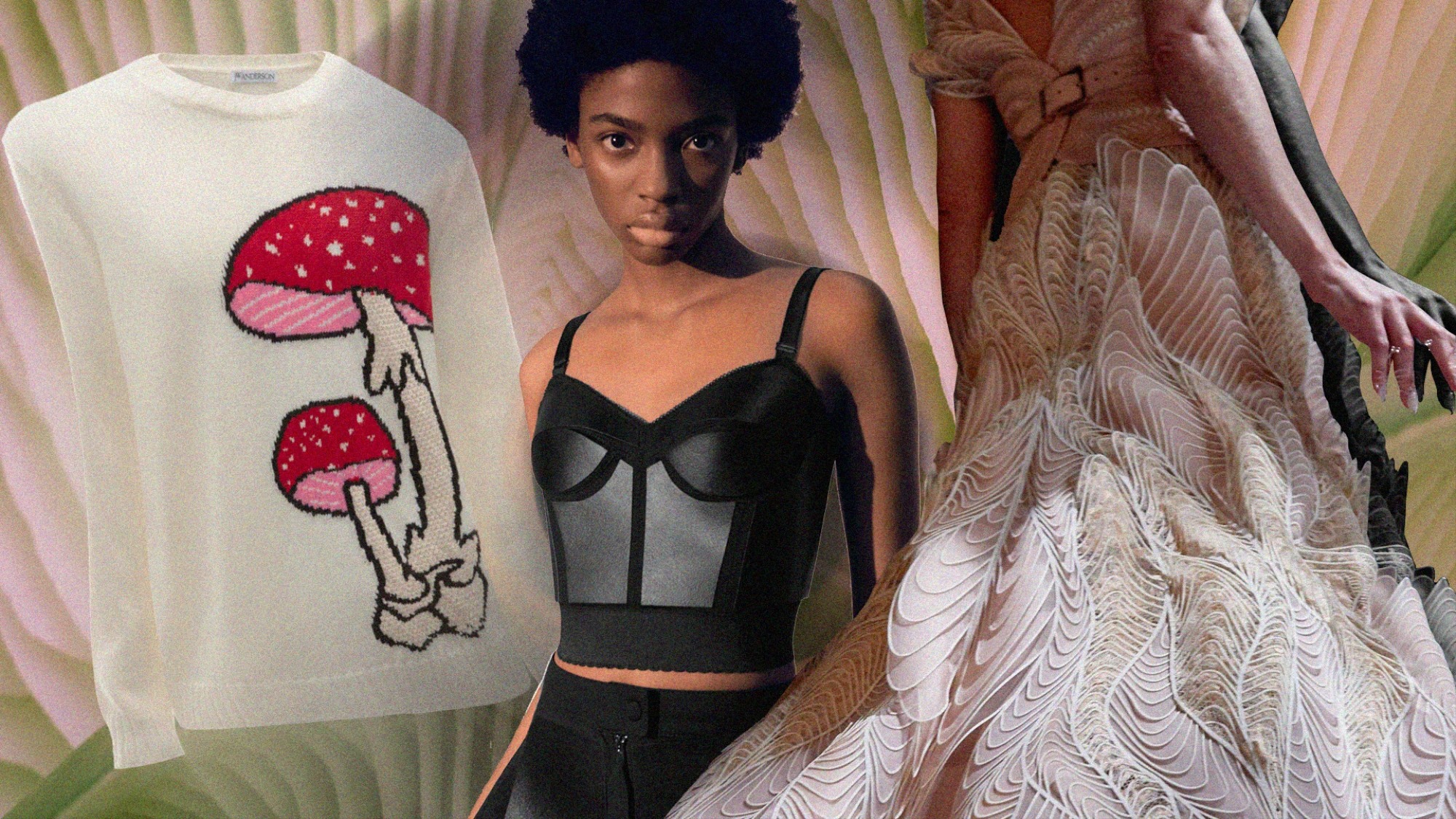 Main images courtesy of JW Anderson, Stella McCartney and Iris Van Herpen. Collage by Douglas Greenwood.
Fashion's biggest muse? Shrooms!
Not since the avocado has a supermarket staple become such a cultural — fashion included! — phenomenon… We're talking about mushrooms, of course. Not only have they cropped up on Bella Hadid's nails, in couture collections, and on JW Anderson sweaters — fungi could hold an answer to fashion's ever-prescient sustainability woes. This week, Jack Moss delved deep into the world of mushrooms and the advances in mycelium leather that has seen brands from Stella McCartney to Hermes betting big on plant-based materials. Thought shrooms were having a moment for us to get high? Well, this is HIGH fashion, baby! Read all about it here. OA
Britain's fashion community comes together for the kids
From being banned (with good reason) access to technician support and workroom equipment at school to having to work on their graduate collections in bedroom-studio set-ups, it's been a rough year for final-year fashion students. A major spanner in the works for many has, of course, been a lack of access to fabrics, with stores and suppliers closed over the intermittent lockdowns. Thanks to a new community-led programme spearheaded by the BFC and supported by writer and i-D contributor Charlie Porter, steps are being taken to alleviate the pressure of the pandemic on budding fashion talent. Under the banner of the Student Fabric Initiative, 24 brands — including Burberry, Bianca Saunders, Charlotte Knowles, Craig Green, Per Gotesson and Simone Rocha — have come together to donate deadstock and unwanted materials to fashion students at 33 colleges in need around the UK. It also makes for an innovative step towards "towards a circular fashion economy while supporting excellence in fashion design," Caroline Rush, the BFC's Chief Executive, says, with Charlie Porter noting how this could "hopefully become a model for how designers and brands can give back in the years ahead, placing sustainability at the heart of UK fashion education." A* from us! MS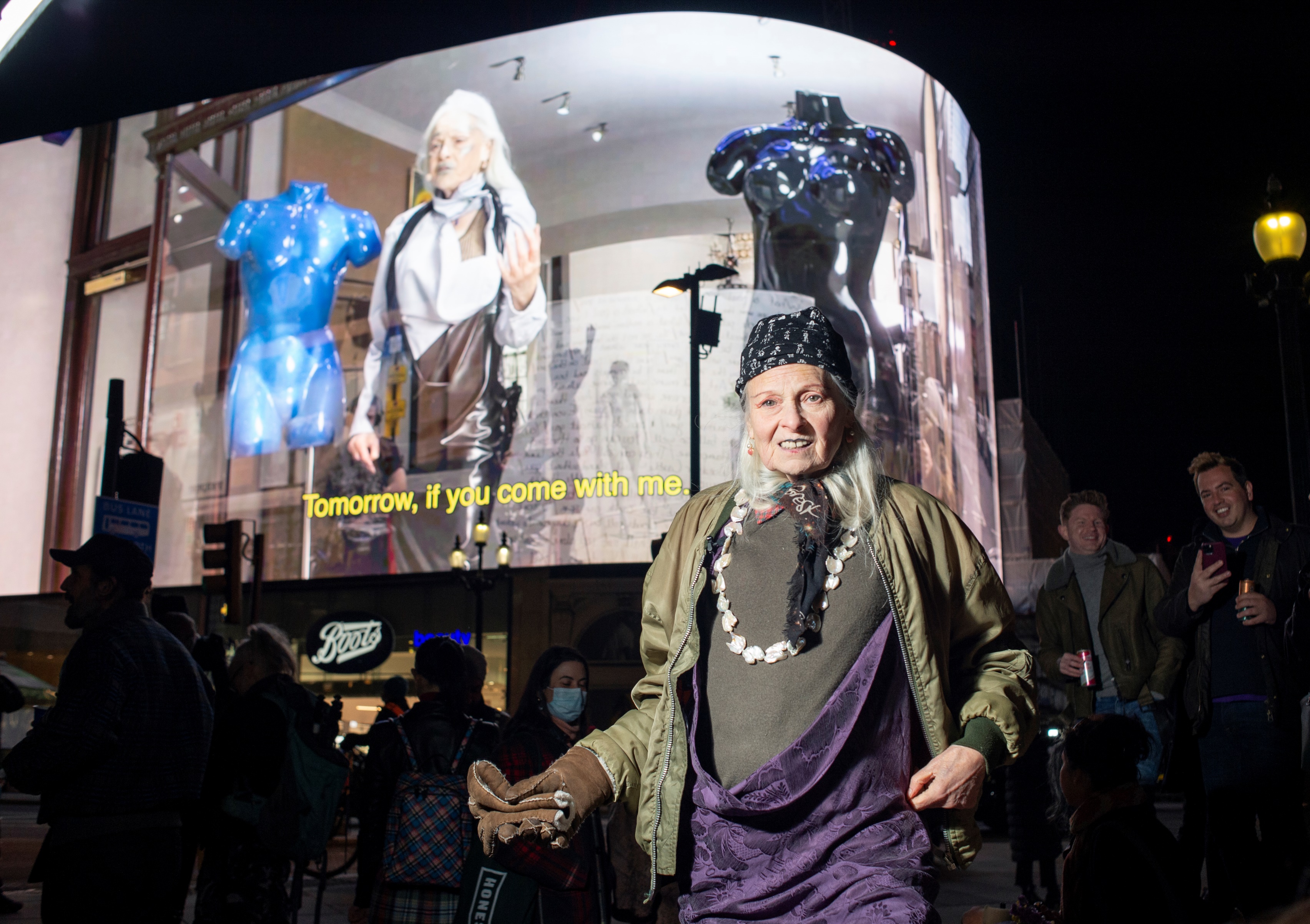 Photography Ki Price. Image courtesy of Vivienne Westwood.
Happy Birthday, Dame Vivienne!
This week, a fashion icon became an octogenarian. Happy Birthday, our Aries queen, Dame Vivienne Westwood! The Queen of Punk and all-round legendary redhead celebrated her birthday in a slightly unusual way. Ever a provocateur (and activist!) Dame Viv took over the lights at Piccadilly Circus in London to screen a short film she has made, titled 'Do Not Buy A Bomb'. In it, she performs a rewritten rendition of 'Without You' from the 1964 film My Fair Lady. Her message — as always — is a rallying cry to 'Buy Less, Choose Well, Make It Last' — encouraging us to take action against climate change and war, which she points out is the biggest environmental polluter. "I have always combined fashion with activism — the one helps the other," she said. "Maybe fashion can Stop War." Here's hoping her birthday wish comes true! OA