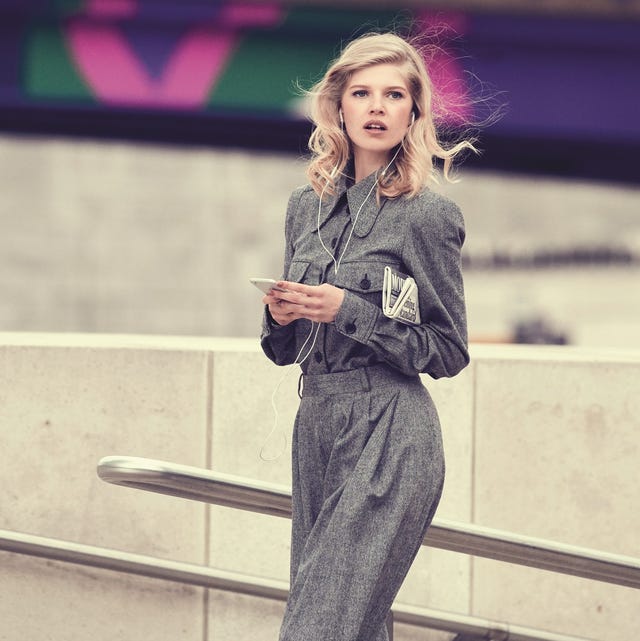 Regan Cameron
September is always one of the most exciting months in fashion – and this year, it feels particularly poignant. This month sees the return of fashion week, which will be, on the whole, taking place in a physical sense for the first time since March 2020 when the world shut down due to the Covid-19 pandemic. Many designers will be putting on real-life catwalk shows in place of the digital presentations they had become accustomed to this past year, while plenty of editors and influencers will actually have the opportunity to travel to see collections in person. The shows have already kicked off with New York, which also played host to the rescheduled Met Gala on Monday 13 September, while London, Milan and Paris will follow.
Aside from fashion week, there is plenty more to get excited about this month as we say goodbye to summer and welcome in a new season. With autumn weather fast approaching, new investments will certainly be made as the new collections land in stores. However, there is also much to think about when it comes to these purchases. This month also marks Second Hand September, an initiative which aims to help us rethink about we shop. Oxfam urges shoppers to say no to new clothes for 30 days to reduce our impact on the planet. You can read more about that here.
So, from an Oxfam collaboration with Selfridges to the beautiful Paris Fashion Week tribute we can expect for Alber Elbaz, we round up all the need-to-know industry news this month.
Advertisement – Continue Reading Below
Oxfam is teaming up with Selfridges
Last year, Selfridges launched its first charity shop in collaboration with Oxfam, which was created to mark Second Hand September – and the two businesses have teamed up once again. This year, the charity shop – which you can find on the third floor of the London store – will be in place for three months with an edit from stylist, editor and author Bay Garnett. Highlights from the collection include sheepskin coats and Versace shoes from the 1990s, which you can shop right now.
For more information, visit Selfridges.
A fitting tribute for Alber Elbaz
In April, the fashion world lost a true icon when Alber Elbaz passed away – and the industry will be paying a beautiful tribute to the designer during Paris Fashion Week.
His brand, AZ Factory has announced that the event, called Love Brings Love, will be a collaborative runway show, which will see over 40 fashion houses join forces with the AZ Factory design studio in creating looks in homage to the late couturier. The resulting collection will be presented as the closing event of fashion week in Paris.
"We are so moved and humbled that today's best creative minds are joining the AZ Factory team in paying tribute to Alber's memory," Laurent Malecaze, AZ Factory CEO said. "The show will be a powerful expression of love and a beautiful celebration for our dear Alber. We know that he would have been incredibly honoured to be remembered in this way."
H&M celebrates Iris Apfel
One of fashion's most famous faces is celebrating her 100th birthday this month, and H&M will be toasting her in style. Iris Apfel – who has just hit her milestone age – will see her unique style paid homage to in an H&M x Iris Apfel collection. The clothing and accessories will all embrace Apfel's bold sense of style and independence of mind. Look out for colourful co-ordinating sets, floral suits, tiered ruffle dresses and bright printed dresses. All materials used in the collection are recycled, or more sustainably sourced and each garment and accessory has been made with circularity in mind. The collection will be available in early 2022.
"I think H&M is fabulous and they are absolute pioneers in their field – which I love! I love doing high style at affordable prices, which H&M has mastered," Apfel said.
Matches Fashion champions new designers
Last September, Matches Fashion launched its Innovators programme, an initiative through which it will champion up-and-coming designers by helping them with marketing support and a preferential payment system. And, for 2021, the online retailer will be adding to its roster with three new names (Maximilian, Nensi Dojaka and S.S.Daley), while also celebrating each designer through a unique campaign which sees the newcomers in conversation with an established designer whom they admire.
"The idea of a space where big brands sit alongside emerging designers is at the very heart of Matches Fashion and this sense of discovery is why our customer comes to us," Simon Chilvers, creative director of Matches said. "This season, our Innovators programme connected young design talent with more established brands for a series of conversations that covered everything from sustainability and the future of runway shows to how a collection begins."
Read the interviews – which take place between the likes of Grace Wales Bonner, Harris Reed, Thom Browne, Bianca Saunders and Christopher Kane – here.
A charitable jewellery auction is taking place
It is difficult not to be completely horrified by the recent events in Afghanistan – and to feel helpless about what you can do. This is what prompted Rosie Lillis to launch a charity jewellery auction, which will help to raise money for 'Women For Afghan Women', a grassroots women's rights organisation which is helping to evacuate and provide urgent resources, shelter and care to vulnerable women and children during this crisis.
25 British independent jewellers have donated a piece of jewellery which will be auctioned online. Brands involved include; Solange, Shaun Leane, Pippa Small, Annoushka, Theo Fennell, Jessie Thomas, Christopher Thompson-Royds, Rachel Boston and Otiumberg.
You can bid on the pieces on Roseberys from Monday 27 September to Monday 4 October 2021. The auction house has kindly waived their fees meaning that 100 per cent of the proceeds raised will go directly to the charity.
This content is created and maintained by a third party, and imported onto this page to help users provide their email addresses. You may be able to find more information about this and similar content at piano.io
Advertisement – Continue Reading Below